Apologies for the lack of updates! Real life got a bit busy for my fellow admins and I so we were not able to update the blog. With that in mind, please don't mistaken the lack of activity on JG Blog as being reflective of Joey's activity. In fact, the beginning of 2015 has been relatively busy for Joey after what was a quieter year in 2014. Indeed, we have quite a bit to recap…so please bear with us!
[Me, re-do]
The first update we have to cover is of course the release of Joey's fifth EP, 'Me, re-do'. The album art is heavily influenced by 1980s Japanese record covers, continuing a theme seen in the plugs released last year. The EP contains four tracks and can be considered a concept album, following the 'four somethings' a bride should wear that is considered lucky in western culture.
As the EP's 'something new', Joey enlisted the help of one of Hong Kong's top up-and-coming musicians Janet Yung (though Janet herself has been a long time writer and bandmate for Joey) to write the first plug, 天然呆. Meanwhile second plug 樂觀, penned by J-pop veteran Mayumi Itsuwa, and her latest plug 飄紅, which stars Hong Kong film icon Petrina Fung – the 'Shirley Temple of Hong Kong' – in its music video, is considered the album's 'something old'. Despite the already star-studded list of icons associated with this project, the biggest name of course is the 'god of song' himself, Jacky Cheung. As the EP's 'something borrowed', Joey sang a cover of Jacky's 1995 hit 這麼近那麼遠, with the living legend making a cameo himself in the music video. Finally the album shoot's blue background rounds up the concept as the project's 'something blue'
[Hacken Lee & Joey Yung Live in Hong Kong 2015]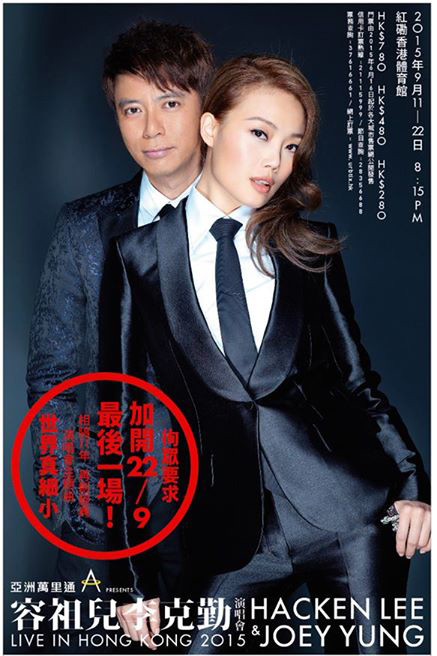 The second but equally, if not even bigger, update we have to cover is Joey and good-friend Hacken Lee's double headlining gig at the Hong Kong Coliseum this September. The two first paired up for what was one of the most memorable 'Music is Live' concerts ever back in 2004. Eleven years later, the duo is taking it to the big stage in what is probably the biggest concert event of the year. Last week the poster leaked, a month before the scheduled pre-order date, along with reports of illegal fake ticket sales. Pre-sale tickets will be made available on Joey's birthday, June 16th, and a new duet is expected to be released around the same time. For now the series will run September 11-18, though additional dates will more than likely be added later.